By now you know we promote Shopify as the eCommerce platform of choice, of course there are good reasons for that. Including in that reason is a great lineup of AI-powered chatbots.
A Chatbot represents a number of advantages for an internet based business. The web is probably the most potent two-means communication interface in the historical past of humanity, but most firms simply use it to blast out emails.
A great AI chatbot is capable of solving buyer queries with its intelligent conversational features, and you may count on it for triage and routing and data-driven insights. If you're presently utilizing a normal chatbot, however want to improve to an AI-powered one, we've put collectively a list of the most effective AI chatbots for 2021.
Fortunately, the next advancement in chatbot expertise that may clear up this downside is gaining steam — AI-powered chatbots. Stay updated with the latest advertising, sales, and service suggestions and information. If the shopper is logged in, the chatbot uses their previous purchases to inform the suggestions. If they're not logged in, it depends on trade-wide knowledge from different eCommerce stores.
Re:Amaze – Multi Channel Live Chat, FAQs, and Bots
Re:Amaze originally was a multi channel live chat system, created specifically to handle and manage multiple websites' live chat systems all at once. It has done its job wonderfully well, and now it expands to AI chatbots.
Their 3 main embeddable are:
The chat box / shoutbox with bots
FAQ page
Contact Us form
They have 3 built-in bots that will handle common questions: Hello bot, FAQ bot, and Order bot. These built in bots will automatically handle greetings and simple questions, any articles that can be found within your FAQ, and manage your questions regarding your orders.
Customizable cues to display automated message by the bots. This allows certain trigger to happen to let the bot ask more questions. For example if a user visit a specific page within our website.
Customizable workflows to enhance effectiveness of your customer support platform. This will automate specific questions that can be answered.
Create custom bots triggered by using cues which allows people to go through an automated Q&A that we define within the Re:Amaze system.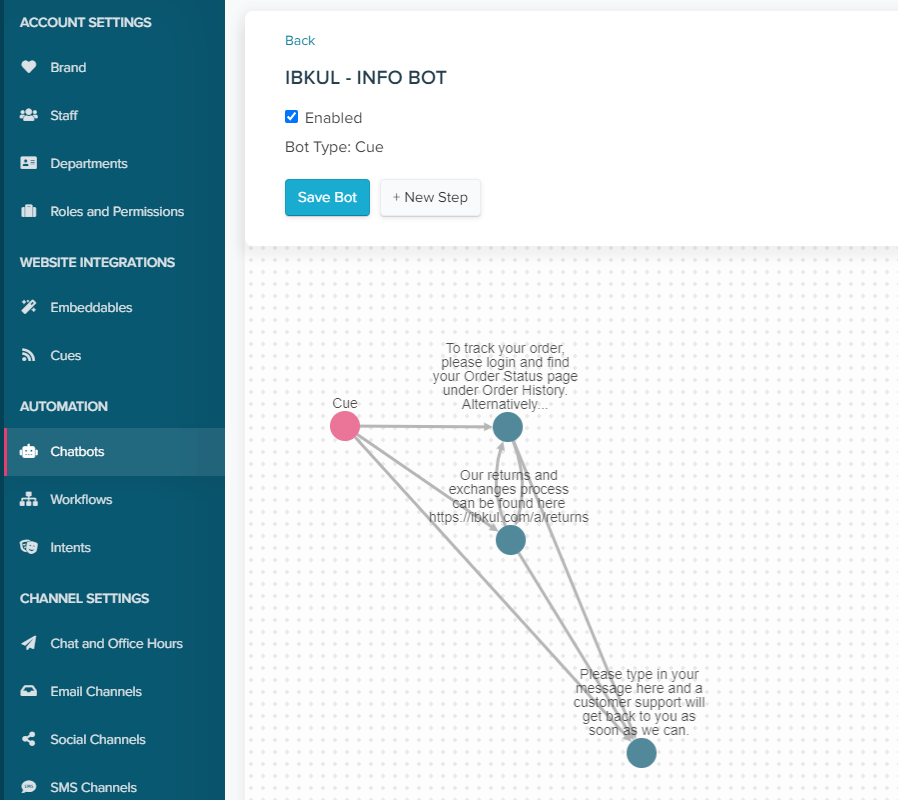 Re:Amaze Inbox:
Manage all conversations created between visitors and customer supports or bots
Group any conversation from multiple brands into a separate tag inside one system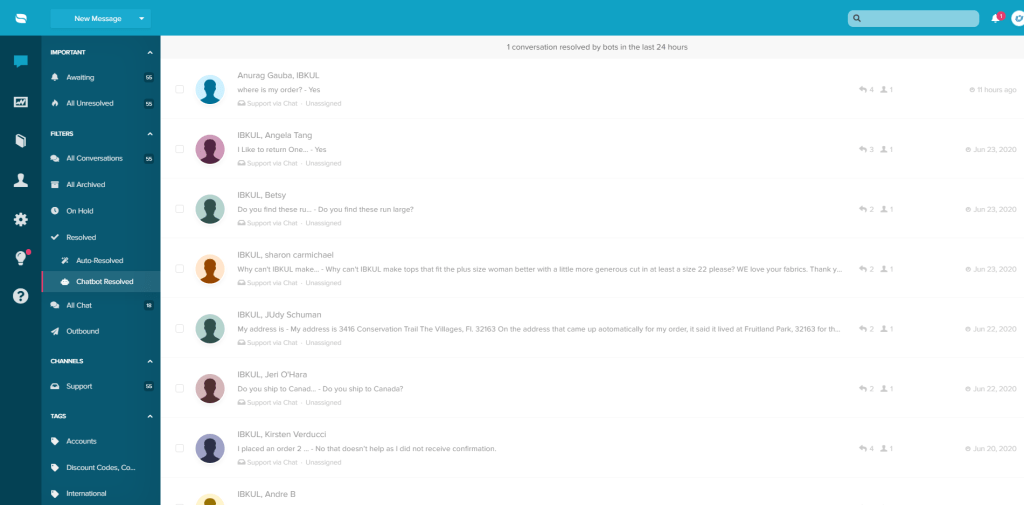 Re:Amaze Reports Module:
View different high level reports prepared by Re:Amaze
Volume report as well as each staff report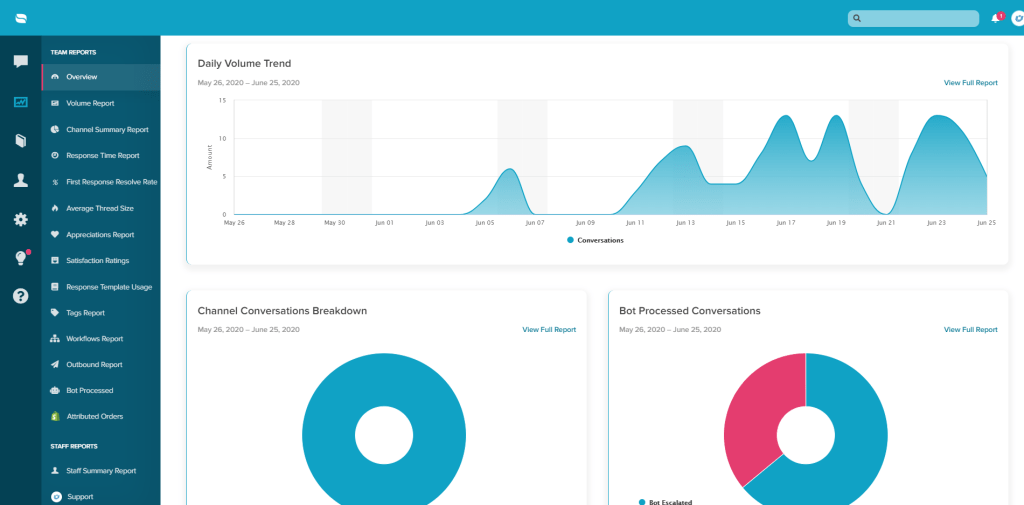 Re:Amaze Articles Module:
Manage FAQ articles into separate group and status
Auto link between all active articles with the FAQ bot
There is an auto FAQ page created by Re:Amaze for all active articles that can be embedded into any website
Re:Amaze Cues and Workflows:
Manage triggers for custom shoutouts and bots
Engage customers based on certain criterias
Manage automation with predefined responses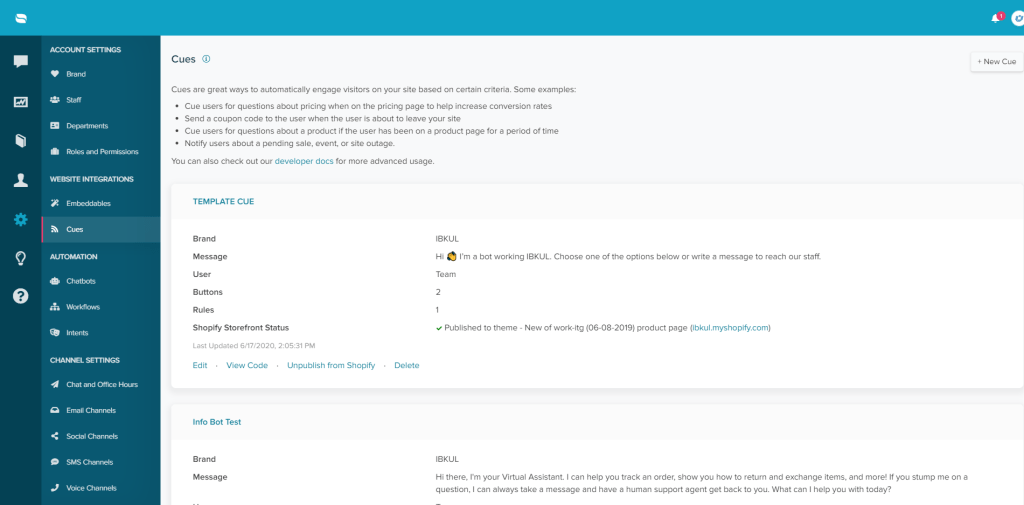 Re:Amaze Chatbots Module:
Manage the 3 built in bots: hello, order, and FAQ
Create custom bots
Manage bots' conversation flows
Connect bots to specific cues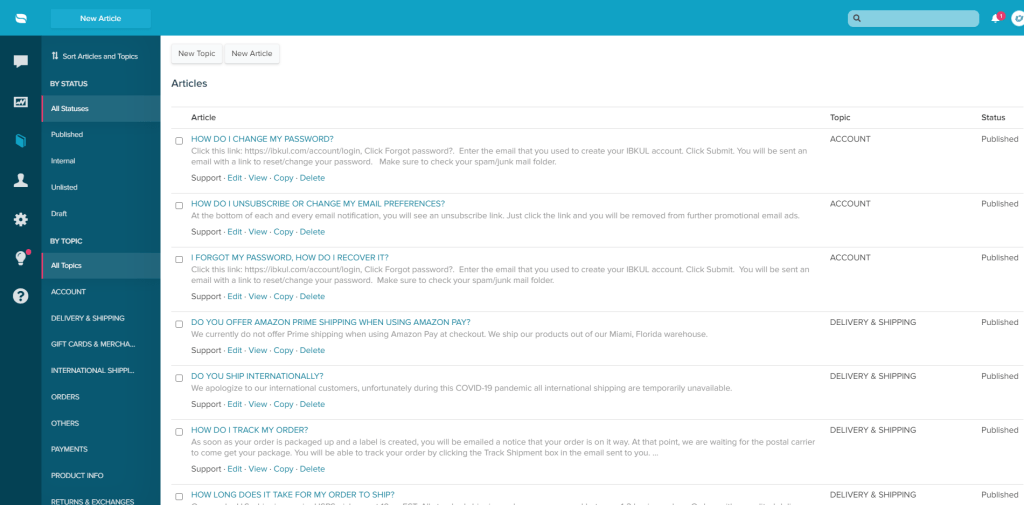 Tidio – Live Chat, Bots, and Email Marketing in One
Tidio has 3 different main features:
Live Chat
Chatbots system
Email Marketing management
Each of this has its own pricing policy, but they can work together to make a good solid solution. The live chat system is simple and not as complicated as Re:Amaze, however, that also means that it's not as detailed.
Chatbots are Tidio main component. Some of its amazing features are:
Very easy to create especially with many different templates serve as a guideline
Very easy to view and test, with its own window without testing the live site
The bot workflow panel has a lot of features from triggers, conditions, and actions, way more than what Re:Amaze bots are currently capable of
However it lacks the FAQ section and there's no built in FAQ bot.
All visitor contacts are stored inside the contacts module which then can be used by the Email Marketing management.
The Email Marketing management has some templates that can be used right away, however, it is lacking the capability to segment the customers, unlike Omnisend.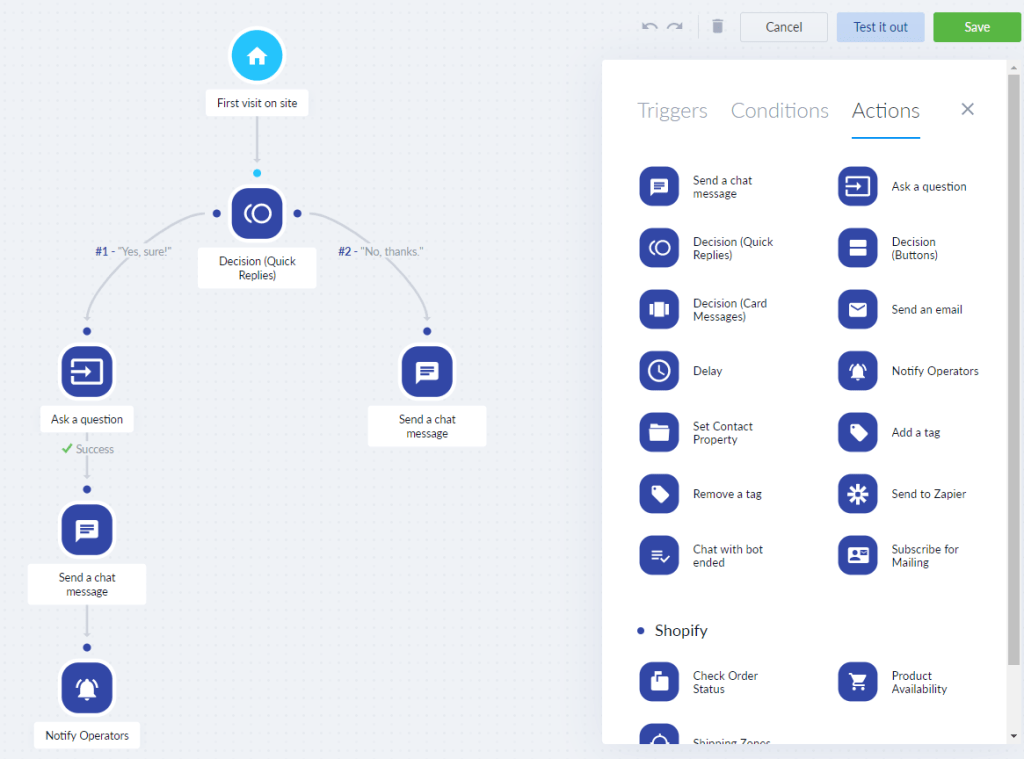 Tidio Chatbots Panel:
Manage different type of bots
View bots reporting
In depth bot controller from triggers, conditions, and actions
Welcome message and bot ending message config
Cost extra to have this module in your apps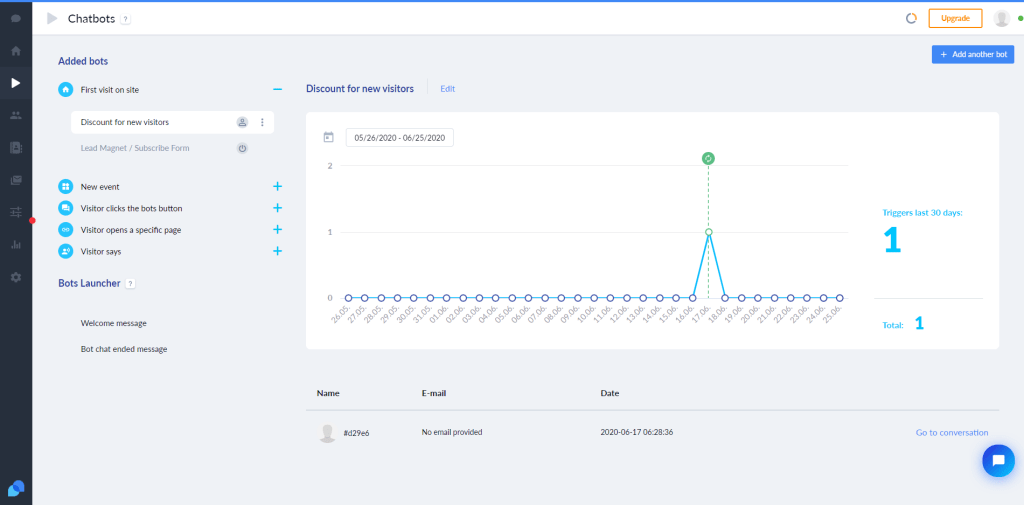 Tidio Email Marketing Module:
Manage email marketing campaign
Different templates to get you started
Cost extra to have this module in your apps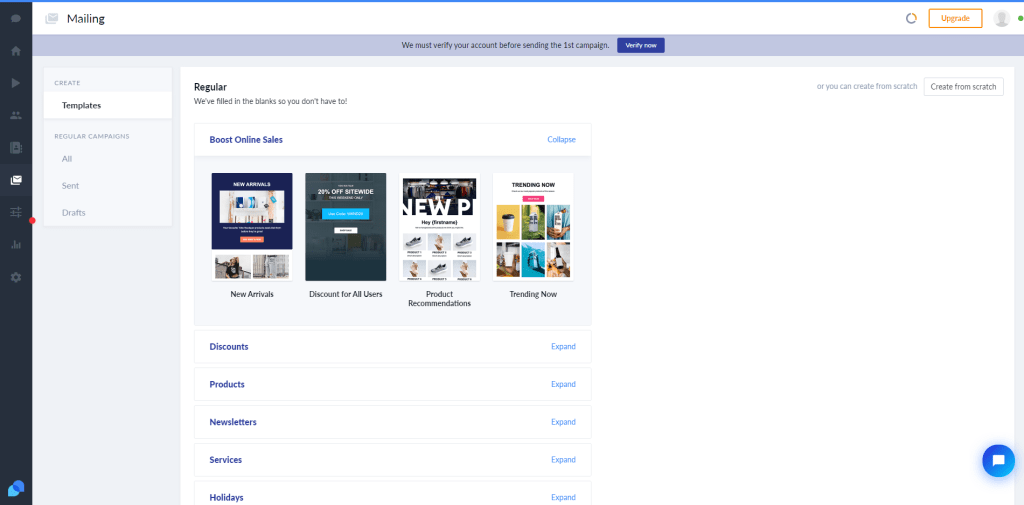 Tidio Channels Management:
Manage live chat UI
Setup additional channels such as messenger and email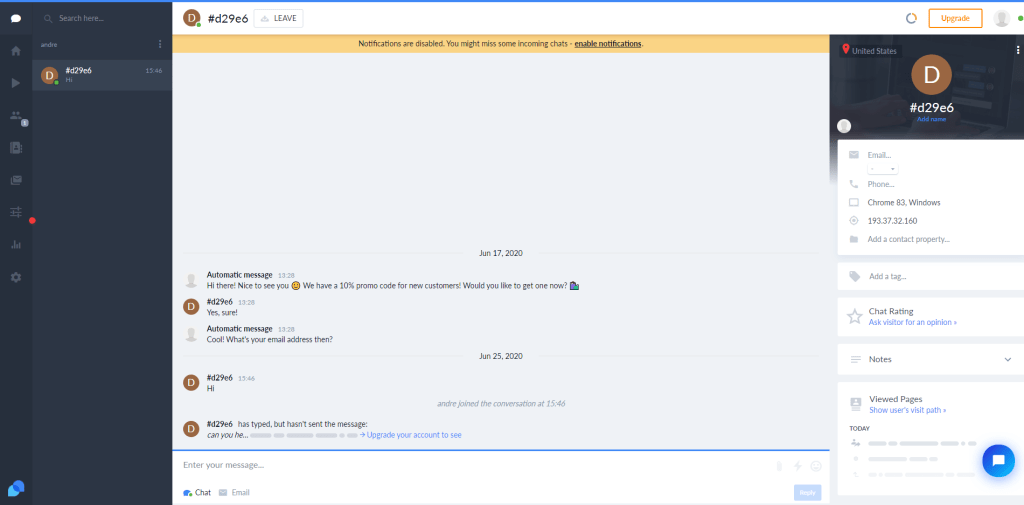 Chatra – Simple Chat Bots
Chatra is quite similar to Re:Amaze in regards to how the bot works, there needs to be a lot of trigger to let the bot know it's time to start.
The panel is way simplified compared to the others, this is because its features are not as mature as the other options. This is great for beginners using chatbots.
Chatra can build groups and departments just like Re:Amaze and even create group conversations
They have 6 trigger templates that are commonly used but the triggers are not as descriptive and details as the others.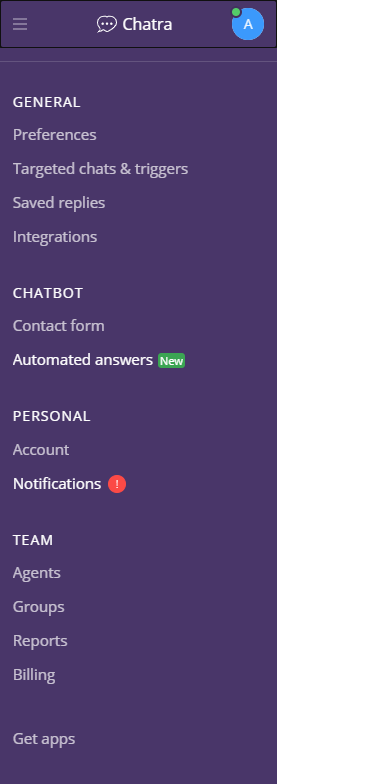 Chatra Conversations Module:
Manage group conversations as well see real time online visitors
Manage all conversations created between visitors and customer supports or bots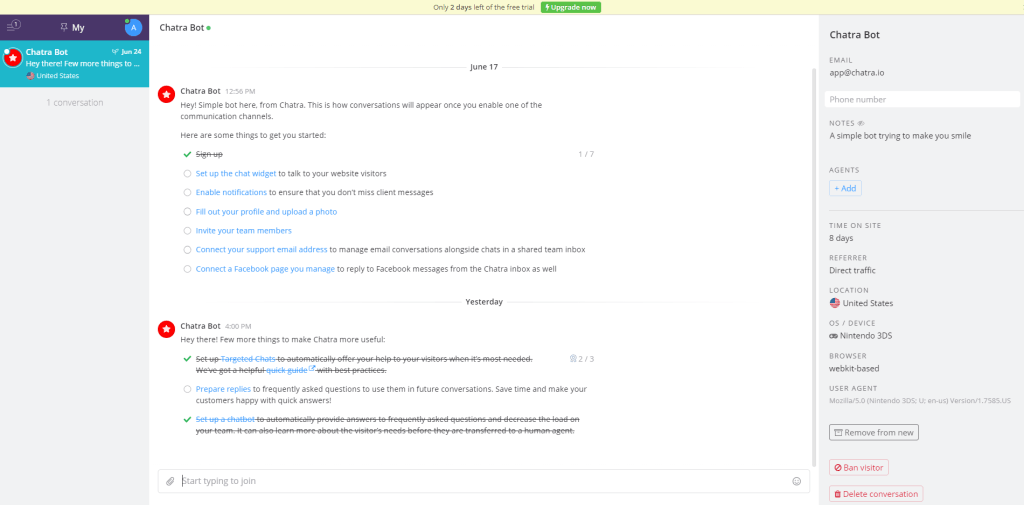 Chatra Targeted Chats & Triggers:
Manage triggers for bots
Control how the chat widget shows up and interact based on triggers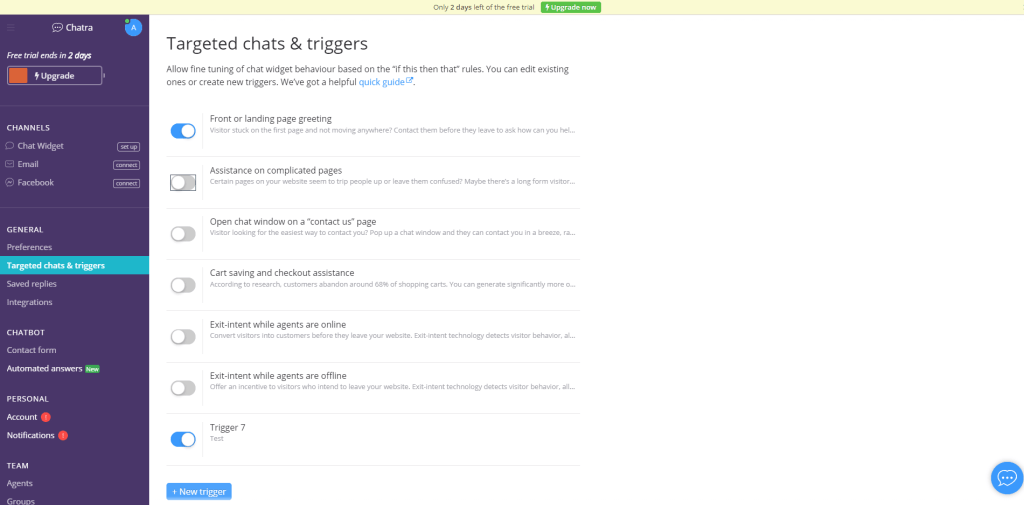 Chatra Automated Answers and Scenarios:
Control bot messages and cycles
From the trigger we can activate any scenario we've built here
Create multiple scenarios to build a better bot, an example available here: https://chatra.com/bot/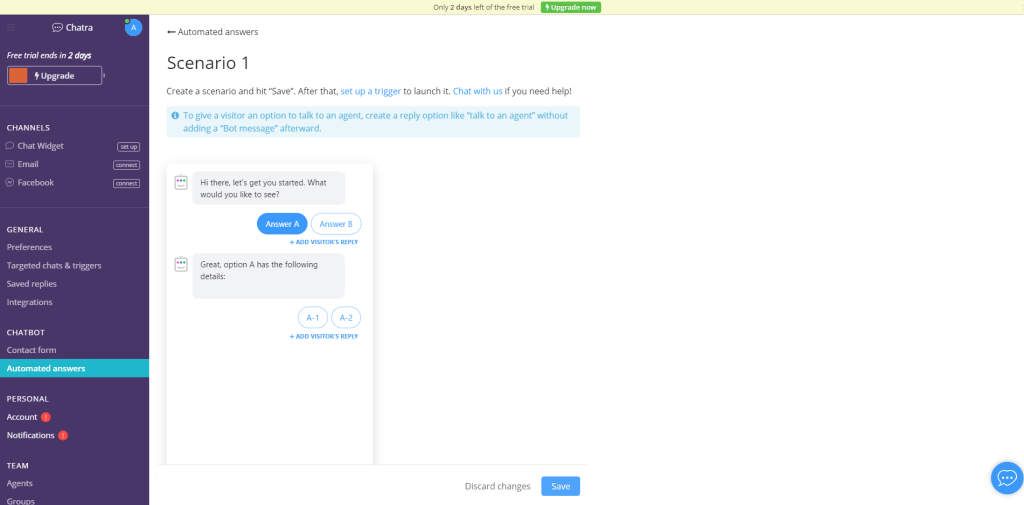 Chatra Channels Module:
Manage connection of chatra ccount to chat widget, email, and facebook messenger
Set up your widget connection as well as appearance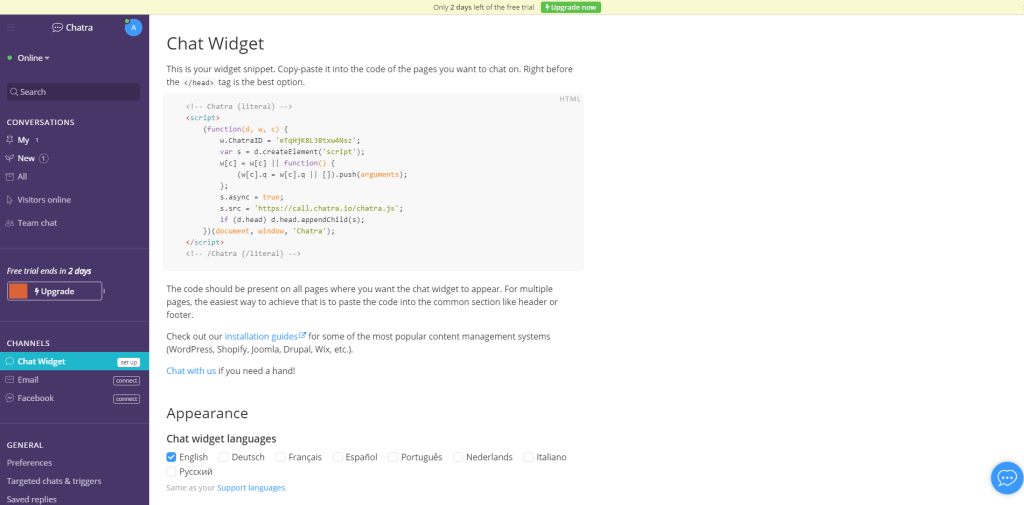 Comparison Summary Table
FEATURES
Re:Amaze
Tidio
Chatra
Live Chat System
Yes
Yes
Yes
FAQ Articles
Yes – with FAQ bot
No – but it's possible to enter each article into one big singular bot equivalent to a FAQ page
No
Order Bot
Yes – with Order bot
Yes but must be created manually with some triggers
No
Chat Bots Customization
Yes
Yes, superbly so
Yes
Machine Learning
Yes with intents
No
No
Ease of Use
Medium to Hard
Medium
Easy
Full Features
Multi Inbox Live ChatChatbots

FAQ Articles

Live ChatChatbots

Email Marketing

Live ChatChatbots
Ease of use. Chatra is the winner here, no question, this is because it presents itself as a simple live chat with bot system that is still immature compared to the others. The lack of features goes hand to hand with how easy it is to use from an admin perspective.
Chatbots Features. Tidio is by far the best if we're looking solely on chatbot capabilities. Its powerful bot flowchart systems combined with its wide array of triggers and samples make it possible to create a different type of action from the bot not only text answers. Re:Amaze comes next with its custom cues and chatbots system, while Chatra provides a more basic flow for the bot.
Learning. Re:Amaze is the clear winner here. We conclude that while Tidio provide a wider range of options and customization in its chatbot features, it lacks the capability to learn from customer's messages, the same with Chatra. Which means, only in Re:Amaze we can categorize the questions accordingly and put them in the right bracket for a better precision on answers. The others are more of a passive chatbot that must be created using triggers (cues in Re:Amaze).
Auto response. Re:Amaze has this as well as Tidio, but both must be done manually (this is Workflows in Re:Amaze). Chatra doesn't have this capability however.
Chatbots Triggers Comparison
Re:Amaze(Cues & Workflows)
Tidio(Triggers)
Chatra(Triggers)
Based on URL Location
Current URLReferring URL
Visitor opens a specific page
Current URLPrevious page URL

Referrer URL

Based on Date or Time
Time on PageTime on Site

Date

During Office Hours

On certain daysThe visitor hasn't contacted you for some time
Time spent on current pageTime spent this visit

Time since this widget has been closed

Time since the last proactive invitation

Based on Visits Data
About to Leave SiteNumber of Visits

Is an Identified User

Device Type

First visit on the siteVisitor returns to the site

Mouse leaves window

Form abandoned

Visitor's locationNumber of visits to this site

Pages viewed this visit

Pages viewed per all visits

Chat history with a visitor

Exit intent

Responding to Customer Message / Action (Workflows in Re:Amaze limit to 5)
Intent NameMessage Body

User is a known User

Conversation started on URL

Customer Location

Visitor SaysVisitor Clicks the bots button

Visitor Clicks on Chat Icon

N/A
Manual Chatbot Activation by Customer Support
N/A
Operator starts the chatbotOperator doesn't take the conversation

Operator doesn't respond during the conversation

N/A
Shopify Integrated Triggers (limit to 5)
Customer is Logged InCustomer Tags

Customer Total Spent

Items in Cart

Customer Order Count

New event (API)Abandoned Cart
API Only
Based on the comparison above we can clearly see that there are so many different triggers available inside Re:Amaze and Tidio compared to Chatra. The triggers inside Re:Amaze are more complex and advanced considering they are combination of cues and workflows inside the system. However, note that, the conditions and actions inside Tidio are more customizable compared to Re:Amaze
Conclusion
Let's take a look from the requirements perspective:
"We would like to automate the system to be able to answer most of customer questions." 
Triggers, triggers, triggers. If we want to utilize the chatbot full powers, no matter what, all chatbot systems requires triggers (these are called cues in Re:Amaze), and that means we need to understand what kind of trigger should we launch the specific custom chatbot in. For example, a greeter bot that may ask visitors if they can help them with anything in regards to Order Status or Returns/Exchanges can appear when the visitor is looking at the homepage URL.
The Bot that guides. A more advance mechanic is to show specific items in regards to users preferences, but this usually works for eCommerce with many different type of items. Say someone is looking for tools, and then the bot can suggest something that's usually bought together with it. Tidio is very good in utilizing this feature.
Built in bots. At this level only Re:Amaze has the amazing built-in bots that will try to redirect questions about order status and anything that are covered under FAQ articles. If we think about it, the other chatbot systems are identical to Re:Amaze custom Cue bots. They need to be guided and must have triggers to provide guidance. Granted that Tidio has a bot launcher feature that will do this automatically once.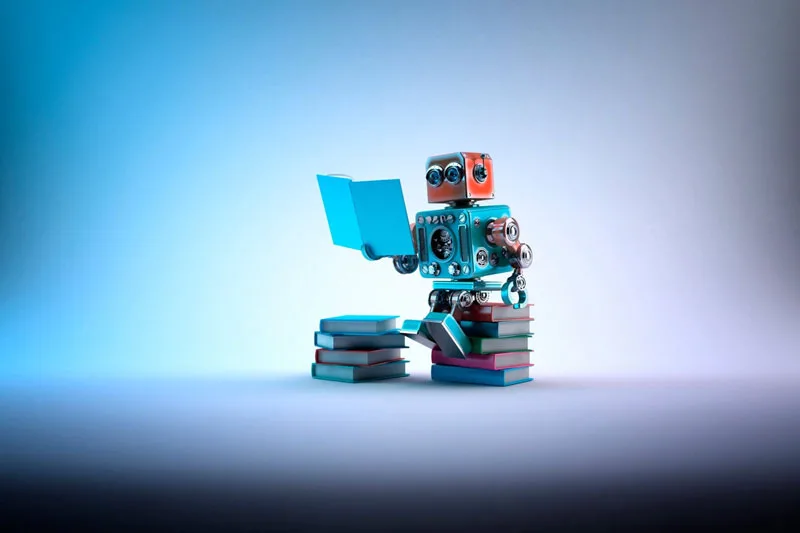 As of right now, between the three, we highly recommend sticking with Re:Amaze and starts to activate some of its more customizable features such as workflows and cues to have a wider range of engagement. If we don't use the cues in Re:Amaze, it is the same thing as not using the bots in Tidio or Chatra. Their bots require triggers to work at all. The trigger can be as simple as be at the homepage, logged in to the system, etc. But that's where the chatbot starts to shine.
Not to mention if we keep getting more messages into the system we can further clarify the intent of the message better to provide them with a FAQ article that fits it or even provide a generic reply (maybe a link to FAQ articles) to a contact form message automatically.